Palettes-Europe.com
European handling standard pallet.
Qualities of pallets EPAL
The Europe pallet is a storage medium multi-rotation, i.e. which it was conceived to undergo several cycles. Denominations took seat so as to identify the quality of a new pallet or occasion. One speaks about "white pallet" for the new pallets or about second-hand first choice in opposition to a second-hand pallet of second or third choice, known as "black pallet".
New or second-hand pallets
Upwards: white pallet, black pallet 2nd choice, black pallet 3rd choice
New pallets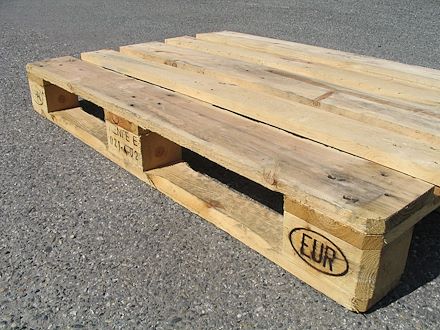 Pallets made exclusively of new wood elements.
Second-hand pallets 1st choice
Pallets having undergone only one rotation in perfect state.
Second-hand 2nd choice pallets
Pallets several rotations, presenting some blemishes which do not question dynamic qualities and solidity of the unit.
Pallets out of use
Pallets often broken, intended exclusively for the recycleurs bus not answering more the constraints of its use.